The 1960s were a decade when scuba diving became both fashionable & sexy!
It featured in the James Bond movie Thunderball, where the secret agent donned scuba gear to battle the likes of SPECTRE, helping to boost public interest in diving even more. It was in this decade that Peter started diving for the first time at the youthful age of 16.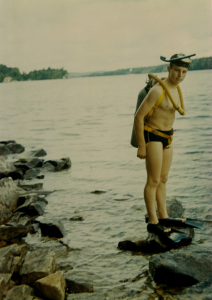 As luck would have it, he was sponsored through the Scouts to visit the US for 4 weeks, and was billeted with a scoutmaster in New England. Aside from his daytime job as the area Mailman (postman), the scoutmaster was also a part-time fireman, who had also trained as a frogman, and so he had access to the fire department supplied scuba equipment.
On a visit to the scoutmaster's lakeside cabin, Pete had his first chance to try his hand at diving. Despite the ill-fitting wetsuit which left him near frozen, Pete was captivated by being underwater.
Peter completed his A-levels on his return to the UK and then went to Birmingham University, where he then joined their diving club and continued pool training. Back then this was a rudimentary BSAC club where proper training was still being defined, but he was at least able to continue refining his dive skills.
After uni, Peter then became a physics teacher at a secondary school in south London, which had possibly the first school dive club started by the local Croydon British Sub-Aqua Club branch. With his previous interest in diving Peter was asked if he would take on the running of the unit. This gave him the opportunity to get properly trained, start doing sea dives and quickly achieve his instructor grades.
Peter later moved to the Waltham Forest Education Department, when he was a BSAC Club Instructor, and continued with introducing young people from schools and youth groups to Sub-Aqua diving n the borough, finally becoming a BSAC Advanced Instructor. Loughton SAC had been going for about 5 years or so then and Peter joined this club in more recent years after moving out of education.
"It's a shark!"
It was the last dive of a trip to the Red Sea, almost as soon as the divers got in the water the current picked up and swept them away. A drift dive on a reef was nothing unfamiliar to the group, and since there wasn't anything they could do about the current they just sought to enjoy it. They were going through the reef at a rate of knots, and Pete remembers seeing a kaleidoscope of colour going past him.
Eventually, air was running low and they signalled to come up. By now the dive boat was some distance away, but the water was flat calm and so they were spotted easily. Whilst relaxing there on the surface of the water, Peter wondered if there was anything underneath and looked down. In that precise moment he noticed a hammerhead shark swimming right underneath them. In his excitement he said "it's a sh-sh-shark!" to the rest of the group, everyone in the group looked down and luckily one of the group managed to get a picture of it.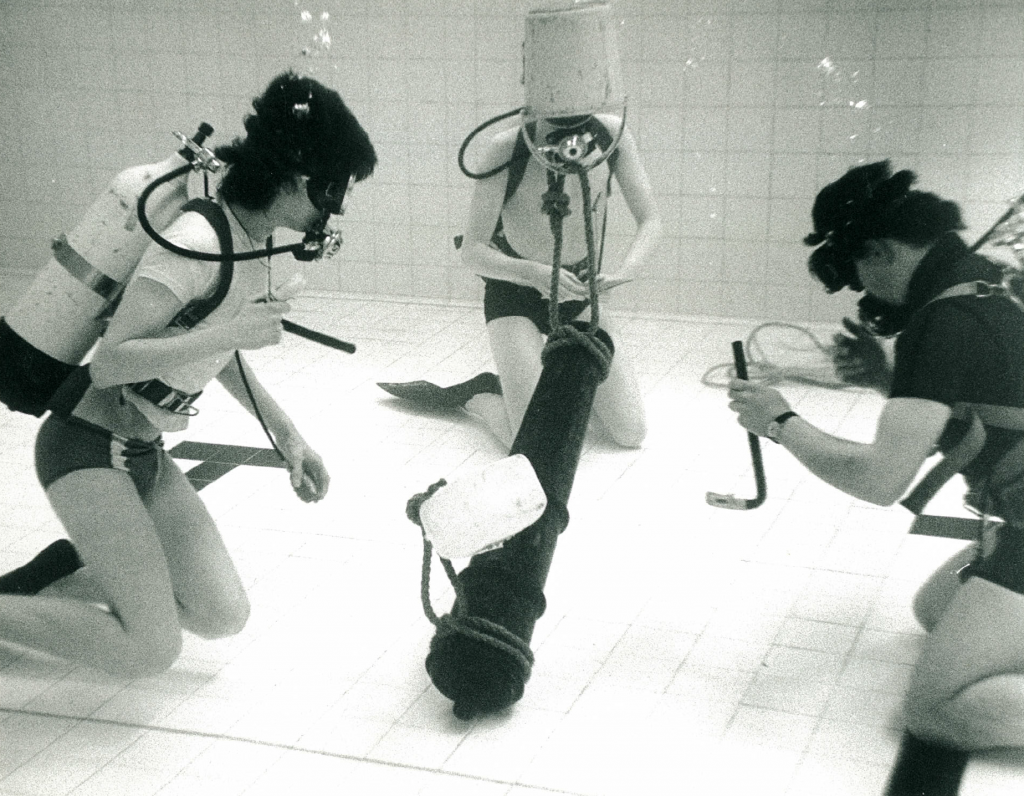 First Class Diver
In a pursuit to develop his dive skills, Peter went for first class diver. The highest qualification offered by BSAC and in all an extremely challenging course.
The first time he went for it was in 1995, working up to taking the exam in 1995, where unfortunately he failed in one of the elements. But not deterred, he took it again in 1996 and passed.
Talking of the course, Peter said it was one of the hardest things he has done in his life. Not least because of the extensive knowledge you need to build, but also because the practical assessment over a couple of weekends puts you to the test all the time. The examiners were constantly testing your metal.
For example, in one moment you would be skippering at the helm of a dive boat and one of the chief examiners pops in and asks you to stop and help outside. The correct thing to do is to continue as skipper being delegated to be in total control, but some would have taken the bait and been marked down for it!
Peter remembered that you could not rest for a minute, if the examiners saw you resting they would come and ask you to do something, question you about dive or boat activities or, out of the blue, someone would keel over on deck and suddenly the group would have to assess and manage the their condition and first aid.
With no higher qualifications to pursue, Peter has since continued diving but for more leisurely and enjoyable reasons has taken more of a back-seat. He continues to run the occasional BSAC boat-handling courses for club members.